Read my most recently published articles
Why the construction industry needs to embrace labour-saving tech
When it comes to boosting productivity, construction in the UK hasn't kept pace with other industries over the past 20 years. Could technology help close the gap?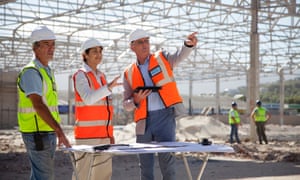 The UK construction sector is racing to deploy the latest technology as it seeks to boost productivity. While industries such as manufacturing and retail have hiked output per worker with huge investments in digital systems and automation, construction is lagging far behind. Technology on many construction projects for road, rail and other essential infrastructure has changed little in 50 years.
"We really need to step back and look at how we can completely shift the paradigm," says Lesley Waud, design development director for transportation at engineering consultancy Atkins. "There are lots of pockets of good practice," she adds, "It just doesn't feel as if it is moving fast enough."
Construction can learn "fantastic" lessons from car manufacturing, where data and robotics have revolutionised production, she says. "They really understand how to take manual processes out of activities. What I want to do is explore how we take their thinking on to a construction site."
She gives the example of off-site manufacture, where components for a building project can be made in a factory and transported to the site to be installed. The auto industry has led the way in developing new methods to assemble pre-manufactured parts using advances in glue technology and clicking parts together. But construction has failed to exploit the opportunity of off-site manufacturing to fundamentally change approaches to building. "We're still bolting things together," says Waud.
She believes that the industry needs to undergo a cultural shift to explore innovation and get the most from the digital revolution. That means everyone involved becoming more data-literate and for digital thinking to become embedded in projects from the start.
For instance, she thinks the industry has failed to reap the full benefits from Building Information Modelling (BIM) software, which creates 3D images of buildings. BIM allows clients to virtually watch the construction of a building, and this helps speed up the design and construction process and saves on costs. However, Waud says there has been a patchy take-up of the technology across the industry. This is partly because clients often find it hard to understand the 3D models, as they are more accustomed to traditional two-dimensional drawings. The models also lack vital data such as environmental impacts. As a result, BIM has often failed to improve decision-making about projects.
"We've got a lot more data and information at our fingertips, which means we can make decisions about what we're going to build and how we are going to build it much earlier. But people aren't used to doing that. They are used to making decisions much later in the process," she says.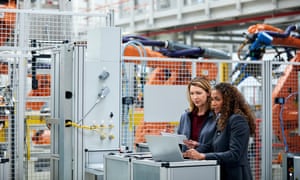 'We've turned the pedagogy upside down': the universities pioneering a new approach to learning
Further and higher education must change to reflect the skills needed in today's workplaces. From the University of the West of England to TEDI-London, a number of institutions are taking student collaboration to the next level
Universities and colleges need to prepare their students for a new world of work. Workplaces are becoming more collaborative, data-driven and agile. Employers are looking for staff who are flexible and have soft skills such as problem-solving and team working.
Educational institutions are increasingly looking to embed these new ways of working into their curriculums, to give graduates a head start in the jobs market.
"Organisations are having to become more agile and rapid in the way they design, develop and deliver new products and services," says Andy Powell, cloud chief technology officer at Jisc, which promotes the use of digital technology in higher and further education. "Clearly, universities have a role to play in readying students for that new kind of workplace," he says.
Higher and further education institutions are in the early stages of modernising their approach to studying as they look to equip students with the tools needed to thrive in the modern workplace.
At TEDI-London, a new university of engineering that opens to undergraduates in 2021, learning will be turned on its head.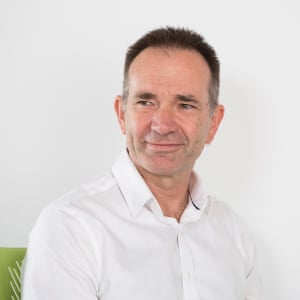 There will be no lectures and students will pursue their own coursework using an online service called a learning tree. They will connect with subject experts for any queries, but the onus will be on the students to work collaboratively to drive their learning.
The traditional academic programme is being reimagined at the university – a collaboration between King's College London, UNSW Sydney and Arizona State University – in its quest to turn out a new type of engineering graduate.
"There's a particular shortage of engineers who have broad skills, who can integrate and who are socially aware. So what we're trying to do is develop that type of graduate," says TEDI-London dean and CEO Judy Raper.
"We believe that pedagogy will influence how professionals get those essential skills, such as teamwork, leadership, collaboration and being aware of society and how it behaves. And so we've turned the pedagogy upside down," she says.
Students will learn primarily through designing and making products rather than theoretically. The campus is based at London's Canada Water and students will build products to help the area's goal of becoming a tech-enabled smart city.
TEDI-London's revolutionary approach is a response to the demands of industry, where employers are seeking graduates who can quickly fit into the new ways of working, she says.
Employers are particularly concerned about a lack of relevant skills and experience among new employees. Only 18% of executives interviewed in a survey by Deloitte thought that UK school leavers and graduates have the right digital skills.
How I got totally hooked on robotics, 28/11/2017
David Benady meets a young engineer who has discovered her passion in a futuristic field
Self-driving cars to hospital robots: automation will change life and work
30/03/2016

……………….
How will the marketing agency digital revolution be advertised?
13th June, 2016
………………
Wouldn't it be better to say that your business has purpose?
The Guardian, March 27th, 2015
 ……………..
Is data kicking sporting nous into touch?

The Guardian, February 4th, 2015
……………….. 

The Guardian, November 14th, 2014
…………………….
YouTube for marketing: how do you make it work?
 
Guardian Online, January 8th, 2014
……………….
Why LinkedIn should be your first port of call for B2B marketing
Guardian Online, September 11th, 2013